Cycledios Berhad provides bicycle rental service(herein after referred to as "the Services") for the purpose of short distance journey rides for its users. This "Cycledios Bicycle Rental Service Agreement" is between Cycledios Managemant Sdn Bhd, including its related companies, (hereinafter referred to as "the Company" or "us") between the Service User (hereinafter referred to as the "User") in relation to opening and operating of an account for the use of the bicycle, the downloading of the application, the use of the "Cycledios Jom" software, and the terms and conditions regulating the use of the Cycledios bicycle rental service provided by this agreement.

We are committed to protect the privacy of your personal information whilst striving to provide the very best user experience. We want our website (https://cycledios.com/) and App (Cycledios App) and other distribution channels (if any) owned, controlled or operated by us or e-mails, mobile applications, or other types of electronic offerings ("Website and/or App") which are published by or on behalf of Cycledios Management Sdn Bhd . (Company No.1275931-H) . Under the Malaysia's legislation of the Personal Data Protection Act 2010 and related laws ("the Act") we have duty to protect the personal information we collect from you. This Privacy Policy discloses the privacy practices for Cycledios Management Sdn Bhd.

In consideration of the Company renting a bicycle to the User, the User agrees to the terms and conditions of this Agreement. PLEASE READ THESE TERMS AND CONDITIONS CAREFULLY BEFORE ACCESSING OR USING CYCLEDIOS BICYCLE RENTAL SERVICES.
1.1      The procedures to register a "Cycledios Jom Account" with us are as follows;
You should download Cycledios Jom App online thru Google Play Store or Apple App Store.
To open an account, the User must be at least 12 years old.
You should provide your personal information with your phone number and other necessary information for the registration.
The Company reserves the right to refuse any application to open an Account and/or to refuse to enter into this Agreement without prior notice to you
After successful registration, we will provide you with a personal account (herein after referred to as "Cycledios Jom Account'), which mean that you have authorize us to use your personal information for providing you the services and you are entitle to access all of our services.
2.1      You understand that Services rendered may incurred charges. Upon received services rendered, Cycledios Management Sdn Bhd will facilitate your payment of the applicable Charges. Charges will be inclusive of applicable taxes where required by law. All the dues Charges, payment will be deducted immediately from your Cycledios Jom Account with us. The following methods of payment is accepted by Cycledios Management Sdn Bhd: credit card or debit card which is issued by local or foreign bank.
2.2      MINIMUM BALANCE CREDIT TO MAINTAIN THE ACCOUNT
A minimum balance credit (refer to Table 1)must be available in your Account before utilising the bicycle.
The minimum balance credit which is stipulated by Cycledios Management Sdn Bhd is subject to change. The User must possess sufficient fund to hire the bicycle.
Without minimum balance, the User not able to use the bicycle..
RM10 from the minimum balance credit will be retained as the Charge for the relocation of bicycle if the User does not returning and/or does not parking at the assigned parking lot, and RM10 will be deduced as Relocation Fees.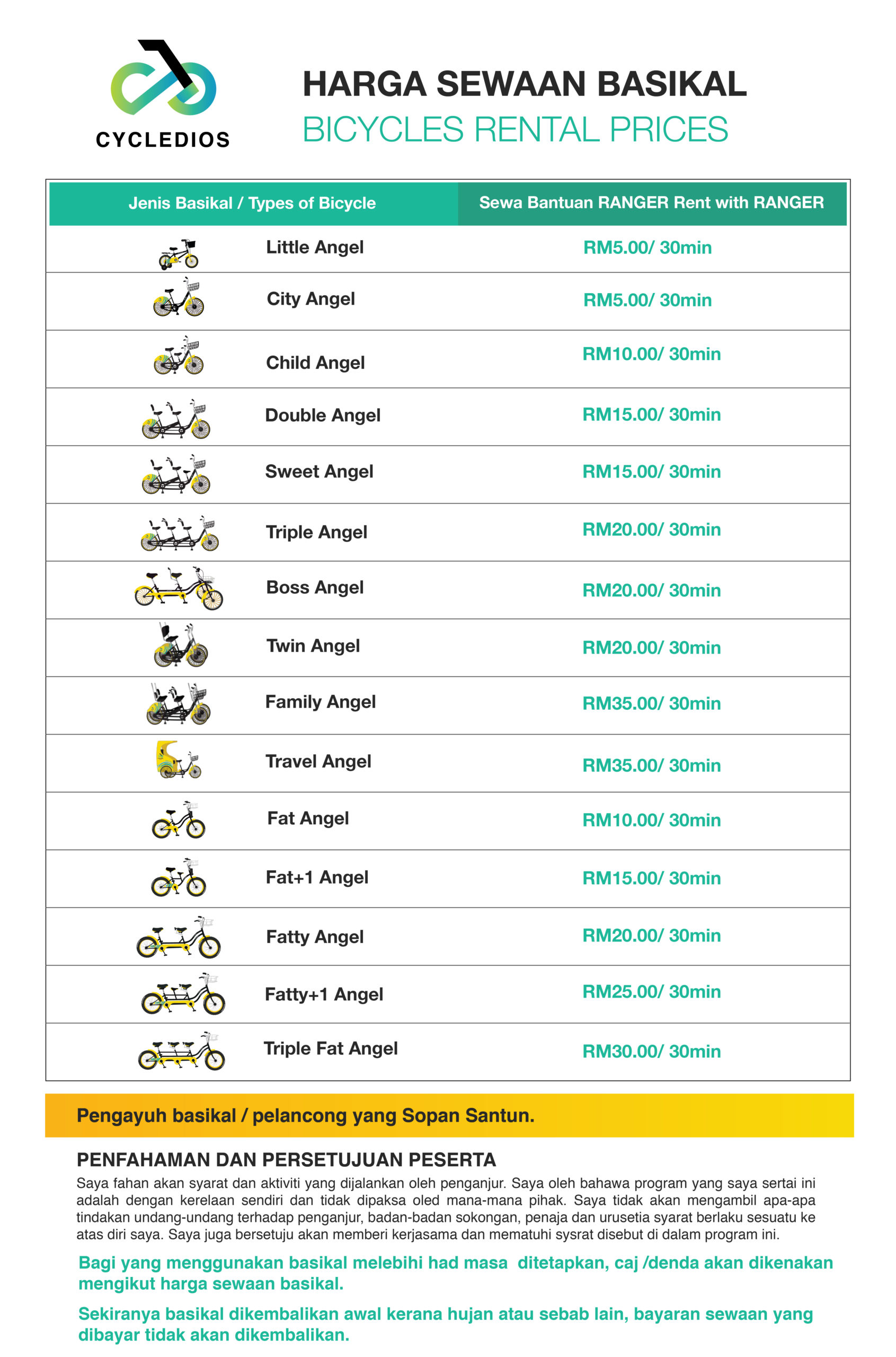 **RM 10 will be charged for Reallocation fee, If Parked out of designated CycleDios Parking Zone.
**The amount tabulation in Table 1 subjects to change without prior notice.
2.3      COST ( BICYCLE CREDIT)
Once unlock the bicycle, you are liable to pay for the cost of hiring the bicycle.
The amount in Cycledios Jom Account will be used to pay for your riding cost (refer to Table 1). It has NO EXPIRED DATE and CANNOT BE REFUNDED OR DONATED to others. The Cycledios Jom App will indicate the cost after end of your trip and you locked the bicycle.
3.1      User will be required to pay and/or compensate to Cycledios Management Sdn Bhd arising from malicious damages intention or unintentionally.
3.2      If the bicycle is stolen due to carelessness or does not locked the bicycle after end trip by the User, Cycledios Management Sdn Bhd has the right to charge the User a replacement cost, which is subject to the lost. You are required to report the lost to the Customer Service within 24 hours following the disappearance and must also report the loss to the local police department and furnish the police report to the Customer Service.
3.3      User is responsible to take good care of the bicycle and the bicycle must be returned in the same condition in which it was rented. If the bicycle was found in a damaged condition and/or in a states of disrepair, User will be charged a fee that is equal to the cost of repair. The Customer Service will attempt to contact the User via telephone and/or email and/or SMS about the charging, by using the information provided by the User during the registration.
Cycledios Management Sdn Bhd from time to time may provide certain Users with promotional offers and discounts that may result in different amount charged for the same or similar services obtained through the use of the Services, and you agree that such promotional offers and discounts, unless also made available to you, shall have no bearing on your usage of the Services or the Charges applied to you.
5 GENERAL RULES AND TERMS OF USE AND RESTRICTIONS
5.1      Requirements
User must be minimum 12 years old or above. 
User represents and warrants that you are experienced and familiar with and capable of safely and competently operating a Bicycle, and further, that You are physically and mentally fit to ride a Bicycle.
5.2 Guidelines & Rules on the use of the bicycle
Riding on your own risk;
You shall slow down and prepare to stop your Bike for pedestrian at crowded pavement or places likes bus stops;
You must stop and pay attention towards traffic flow in pedestrian crossing and cross carefully;
You are encouraged to prepare your own supply of helmet and that you wear the helmet at all times during riding to avoid any injuries to the head;
You are solely responsible for any traffic violations and/or fines incurred by you while using the bicycle, including any fees for parking the bicycle in a prohibited locations;
You shall be responsible for each bicycle rented under your Account;
You shall be responsible for ensuring that any individual operating or using a bicycle rented under your account shall read and comply with this Agreement;
Before unlocking a bicycle, you must check the condition of the bicycle. If there is a problem found with the bicycle, do not unlock it, and you must immediately report through Cycledios Application or contact our Customer Service on the faulty bicycle;
Once unlocked, you should take responsibility for the bicycle until you return it to the designated parking area in the same condition as originally you received it. During the rental period, you are required to take good care of the bicycle and be responsible to keep the bicycle away from malicious destruction.Should the bicycle is damage under your rental period; it shall render your account to be blocked or suspended;
You are completely responsible and liable for deliberately damages to the bicycle you have rented from Cycledios Management Sdn Bhd;
The timing for the ride begins calculating either when the bicycle is unlocked or at the time the User reserves a bicycle with the mobile application or on the website. The Rental Period ends when the bicycle is locked at any of the designated locations provided by Cycledios Management Sdn Bhd. A Service Charge will be charged if the bicycle is not returned and/or locked to the designated location after the Rental Period;
Cycledios Management Sdn Bhd is responsible for the daily running, maintenance and repair of the bicycle. But it does not mean that the Company has the obligation to ensure that all the available bicycles are in a trouble-free condition in real time. The user should confirm the integrity of the components, efficiency, and familiarize with the performance of bicycle and safety devices before using the bicycle;
The service is not available for use by a person under the age of 12. You may not authorize third parties to use your Account, and you may not allow a person under the age of 12 to receive transportation or logistics services from Third Party Providers unless they are accompanied by you;
You may not assign or otherwise transfer your Account to any other person or entity. You agree to comply with all applicable laws when using the services and you may only use the services for lawful purposes (e.g., no transport of unlawful or hazardous materials).
You will not in your use of the services cause nuisance, annoyance, inconvenience, or property damage, whether to the Third Party Provider or any other party. In certain instances you may be asked to provide proof of identity to access or use the services, and you agree that you may be denied access to or use of the services if you refuse to provide proof of identity;
By creating an Account, you agree that Cycledios Management Sdn Bhd may send you informational content via the Cycledios Jom Application, short message service (SMS), electronic direct mailers (eDM)  as part of the normal business operation of your use of the Services;
You are solely responsible to obtain the necessary data network access to use the services. Your mobile network's data and messaging rates and fees may apply if you access or use the services. You are solely responsible for acquiring and updating compatible hardware or devices necessary to access and use the services and Applications and any updates thereto. Cycledios Management Sdn Bhd does not guarantee that the services, or any portion thereof, will function on any particular hardware or devices. In addition, the services may be subject to malfunctions and delays inherent in the use of the Internet and electronic devices;
CycleDios bicycle which is meant for renting shall remain the exclusive property of Cycledios Management Sdn Bhd at all times;
In the event of theft or an accident (resulting in bodily injury) that occurred during the riding, youare required to contact the Customer Service and Local Police immediately;
If you caused a damage to property or injury to another party while riding or in possession of the bicycles, you are solely liable for such damage or injury; and
You are liable for the cost of damages incurred on the bicycles as a result of abuse, improper use or malicious damaged.
5.3      RESTRICTED USES
You shall not ride or attempt to operate a Bike if You are under the influence of drugs or alcohol and/or impaired;
You shall not use the Bike for racing, tricks riding, jumping, stunt riding and/or, off-road riding;
City Angel bicycle only meant for one person usage. Cannot use for carry any extra person.
You shall not operate the bicycle on unpaved roads , through puddles or water, or in any other uses/places prohibited by law or that you know or ought reasonably to know may expose you or others to risk of injury, death or other harm and/or to expose the bicycle to risk of loss or damage;
You must be seated at all times while pedaling and shall not pedal the bicycle while in a standing position;
You shall not tow, pull, carry or push any person or object with bicycle as such can create unsafe conditions;
You must not use any text messaging device, cellular telephone, portable music player, or other type of devices that may distract you from operating a bicycle safely;
You should not overload the basket with too many items or heavy items as it can cause an unsafe condition and may impair the balance, steering and/or stability of the bicycle which can result in injury to you or injury or damage to other persons or third party property;
You must not dismantle, write on, or otherwise modify or deface a bicycle or any part of the bicycle in anyway;
You shall not remove, add or modify any accessories, parts or components of the bicycle as it is a criminal act to do so;
You must not use any locking mechanism, other than the locking mechanism provided by the Company to lock a bicycle; and
You are not allowed to use the bicycle for any advertising or similar commercial purpose.
6. TERMINATION OF AGREEMENT
6.1      Cycledios Management Sdn Bhd may terminate this Agreement at any time, without cause, legal process, or prior notice to the User.
7. ACCEPTANCE OF AGREEMENT BY USER
The User expressly acknowledges that he or she has carefully read the Agreement, including the terms and conditions, and understands this Agreement, including but not limited to the Waiver of Liability, Assumption of Risk, General and Unconditional Release and Indemnification Provisions, fully and expressly agrees to be bound by this Agreement. The User voluntarily gives his or her consent and expressly agrees to all the conditions included in this Agreement as set forth above.
BY RENTING AND OPERATING A BICYCLE, YOU ACKNOWLEDGE THAT YOU HAVE READ, UNDERSTAND AND EXPRESSLY AGREE TO THE ABOVE AGREEMENT AND THE TERMS AND CONDITIONS.

I HEREBY AGREE THAT PARTICIPATING IN THIS PROGRAM ON MY OWN RISK. I WILL NOT TAKE ANY LEGAL ACTION AGAINST THE COMPANY, ORGANIZERS,CO-ORGANIZATIONS AND PERSON IN CHARGE IN WHATSOEVER MANNER. AND WILL NOT CLAIM THE PROGRAM ANY CPMPENSATION FORM THE ORGANIZER AND THE PARTIES INVOLVED IN CASE OF ANY UNFORTUNATE INCIDENTS OR ACCIDENTS.